Live Music Scotland presents:
Doune the Rabbit Hole Festival
The Damned + Sister Sledge + The Wailers + Battles + Hot 8 Brass Band + John Grant + Beak> + Hawkwind + Blanck Mass + Lee Scratch Perry + Asian Dub Foundation + kathryn joseph
Buy Tickets
Doune the Rabbit Hole is an intimate family friendly, dog loving independent music & arts festival located amidst the glorious ancient oak trees of the Cardross Estate in Port of Menteith.
Friday 19 July: The Damned // Hot 8 Brass Band // Lee 'Scratch' Perry // Skerryvore // Mono (JP) // Paws // Yama Warashi // Steve Davis & Kavus Torabi (DJ) // Beans on Toast // Bombskare // Honey Farm // Paddy Steer // Scalping // Burd Ellen // Melissa Kelly and The Smokin' Crows // Kaputt // The Trad Project // Mr Boom // Folk Sessions (The Auld Reekie String Band) // Band Of Gold // The Purple Stardust Fat Bottomed 'Tropicana Club' featuring Fantastic Man (DJ)
Saturday 20 July: Sister Sledge // John Grant // Beak > // Asian Dub Foundation // Simian Mobile Disco (DJ) // John Cooper Clarke // Niteworks // The Skids // C Duncan // Gwenno // Lankum // Fat Suit // Savage Mansion // Steve Ignorant's Slice Of Life (CRASS)) // Tom McGuire & The Brassholes // Colonel Mustard & The Dijon 5 // Martin John Henry (De Rosa) // Toria Garbutt // Yoko Pwno // Heir of the Cursed // Extinction Rebellion // Broken Chanter // Sonnet Youth // The Cobalts // Alex Rex // St Martiins // Serafyn // Megan Airlie // Irie Yo-Yo // Faith Eliott // Bell Lungs // Advance Base // Chuchoter // Chrissy Barnacle // Run into the Night // The Auld Reekie String Band // Medicine Men // The Girobabies // Super Inuit // Romeo Taylor // DJ Scratch & Sniff // Robin McAlpine // Paul Kavanagh //
Sunday 21 July: The Wailers // Battles // Hawkwind // Blanck Mass // Kathryn Joseph // And So I Watch You From Afar // Shonen Knife // Tiny Ruins // Free Love // Samedia Shebeen // Will Varley // Kakatsitsi drummers // Callum Easter // Carla J. Easton // The Murder Capital // The Local Honeys // Avocet // The Auld Reekie String Band // Current Affairs // Flew The Arrow // Luna Neptune // Busker Rhymes // Glad Community Choir sing Paul Simon // Luke La Volpe // Crooq // Awry (psychagaelic ceilidh) // The Banjo Lounge 4 // Maranta
Line Up
Across three albums - 2007's 'Rock With The Hot 8', 2012's Grammy-nominated 'The Life & Times Of…' and 2013's 'Tombstone' – with a host of standout singles, including their iconic version of "Sexual Healing" alongside several other covers and equally impressive originals, Hot 8 Brass Band have told the story of their lives and their city like only they can.
One of the great New Orleans acts, Hot 8 have pushed on through a barely imaginable series of trials. The devastation of Hurricane Katrina, the separate deaths of four of their band members (trumpeter Jacob Johnson, drummer Dinerral Shavers, and trombonists Demond Dorsey and Joseph "Shotgun Joe" Williams) and the horror of trumpeter Terrell "Burger" Batiste losing his legs in a car crash, conspired to test these men almost to breaking point. They honour their fallen friends and help to work towards the future of their community by putting their energies into positive projects at home as well as touring as much as they can. They march together and they play their music - a rambunctious yet elegant and super-tight mix of jazz, funk and hip hop – not merely as though, but because their lives depend on it.
Transcending genres and trends, Hot 8's party rocking sound and indomitable energy have become renowned across the world, with an ever-growing fanbase and media love across the spectrum from The Guardian and The Sunday Times Magazine to Esquire, BBC Radio 2 to 1Xtra, and beyond. The band and their story featured in Spike Lee's New Orleans documentaries When The Levee Broke and The Creek Don't Rise, as well as David Simon's hit HBO series Treme, and they have performed with artists as diverse as The Dixie Cups, Blind Boys of Alabama, Lauryn Hill and Mos Def. One of a very few brass bands who pour as much charisma, training and talent into their vocals as their horn playing, their sound packs an almighty connective power that remains uniquely Hot 8 no matter what influences they draw on.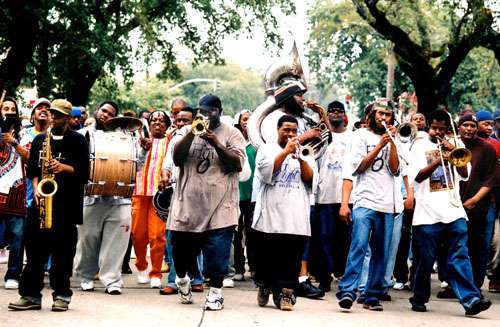 Kathryn Joseph released her debut album "bones you have thrown me and blood I've spilled" in January 2015; what started as an album "kickstarted" by dedicated fans has quietly and organically become a much loved, critically acclaimed album of 2015 – and in June – became the winner of Scottish Album of the Year (the longlist included Young Fathers, Belle & Sebastian, Mogwai and Paulo Nutini)
Prior to her debut release – Kathryn Joseph was regarded one of Scotland's best-kept secrets; prodigiously talented and criminally underrated her voice possesses the other-worldly quality comparable to Ms Newsom and Björk; but she is by no means of an ilk. Better compared with Anthony Heggarty; she is an artist in every way; unique and soulful, and at the core a beautiful unnerving truth.
Kathryn Joseph's debut album "bones you have thrown me and blood I've spilled" paints a delicate moving, at time visceral but always intricately beautiful description of her life until now. Lyrically compelling and sonically stunning, her album evokes a stark, cinematic journey. Written in a period during which life took Kathryn between northern bothies, east coast beaches, the forth bridges and ultimately the east end of Glasgow where she recorded the album.
It was captured predominantly live in just a week by Scottish music industry veteran Marcus Mackay at the diving bell lounge (Frightened Rabbit, Snow Patrol, Trembling Bells, Alasdair Roberts, Sparrow and the Workshop).
Kathryn's on record, and sometime-live collaboration with Marcus offers an unmissable, heart heavy and gut wrenching but understated performance. Those lucky enough to catch her at one of her rare performances are sure to be captivated, moved and perhaps a little disturbed.
Kathryn Joseph's first limited edition pressings onto white vinyl (250 copies) and handcut CDs sold out quickly. It has since been re-mastered and been made available for wider distribution. Kathryn's first single release the bird \ the worm is now available as download and aa side on 7" (limited to 250 copies). Accompanying the already heard title track "The Bird" is the previously unheard "The Worm" a song that was recorded with the rest of the album but never made it on -and since the re-master and playing live with Marcus on percussion, it made sense as a single in its own right. On release, it made Drowned in Sounds single of the week.
For Kathryn's official video for The Bird – she and SCOTTISH BALLET Creative have collaborated with Eve Mcchonachie as director, and Sophie Laplane as choreographer/dancer to create a beautiful, moving and picturesque video set on a West coast beach at sunset.
*Radio sessions have included * "BBC Live at the Quay" with DJ Roddy Hart Marc Riley at 6 Music Shawn Keavney 6 Music at Edinburgh Festival BBC Introducing with Vic Galloway, Radio Scotland The Janice Forsyth Show Loose Ends with Clive Anderson
The Bird has been playlisted on Radio Scotland daytime and Amazing Radio. Kathryn has had 6 Music champions include Lauren Laverne (headphone moment, and 6 music recommends), Tom Robinson, Tom Ravenscroft, Marc Riley, Gideon Coe and Shaun Keaveney. She was breakout track of the week for Jon Kennedy as well as Scotland's Jim Gellatly.